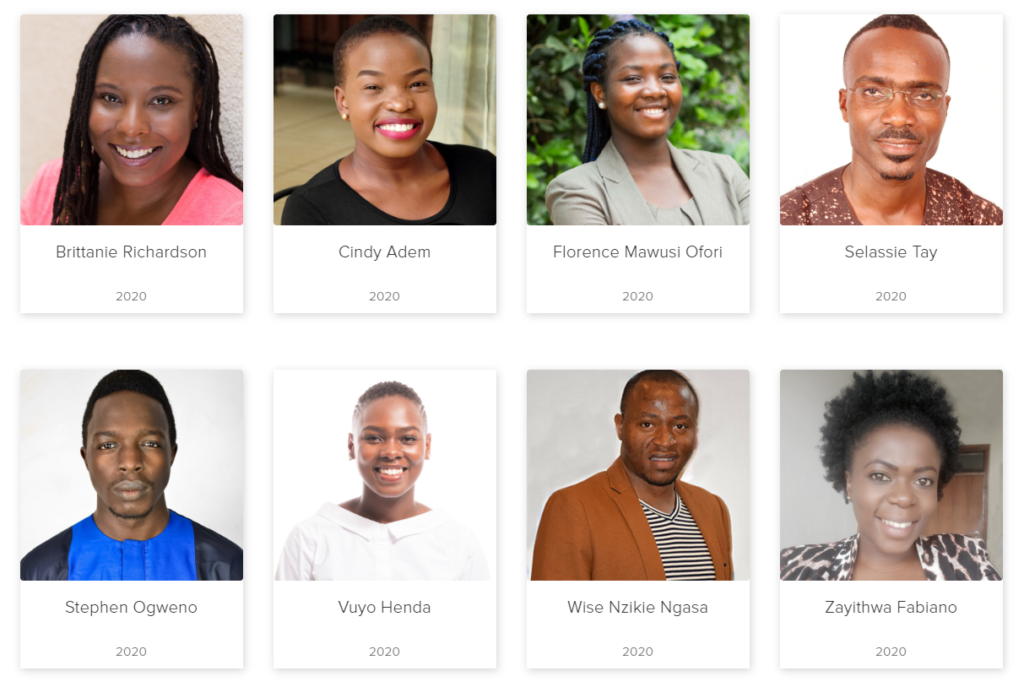 The Contemplative Sciences Center (CSC) at the University of Virginia has selected 20 new emerging social change leaders for the 2020 Dalai Lama Fellows program. The members of this year's fellowship cohort represent 15 different nationalities, bringing the total number of Dalai Lama Fellows to date to 194 young leaders across 52 countries. From Africa, eight young changemakers are part of this year's program.
During the one-year program, fellows engage with DLF's unique Head, Heart, and Hands leadership curriculum and receive regular coaching on their leadership development and social change projects. They also participate in a weeklong Contemplative Leadership Assembly, which is typically held at UVA but will be delivered online this year due to challenges related to Covid-19. Throughout the year, fellows also learn from each other's unique cultures, expertise, and wisdom.
"Dalai Lama Fellows provides tools for cultivating a more aware, authentic, and caring presence that informs all aspects of fellows' lives, deepening their connections to self, others, and the ecosystems in which they live," says Anthony DeMauro, Associate Director of DLF. "Through such connection, the fellows are able to truly be responsive to the needs of their communities."
Spotlight on 2020 Fellows from Africa:
Zayithwa Fabiano is a 2020 Fellow from Malawi. Inspired by parents who encouraged her to be the change she wants to see, Zayithwa decided to become a medical doctor and devote her skills, position, and intellectual resources to help her community adopt good health behaviors. Through a project she calls Umoyo Wathu, she is collaborating with local artists, musicians, and actors to create culturally relevant health education materials.
Brittanie Richardson from Kenya through her project wants to heal, empower, and protect young girls in Kenya who have survived sexual violence as a result of poverty. "We do this through foster care, art therapy, education, and economic empowerment," she shares.
Cindy Adem from Kenya spearheads a project "Village2nation", which is a digital skills company preparing young Africans for the Future of Work. This specific project will be working with the youth in Lamu Island taking them through classes especially focused on the digital economy, and the easily monetizable skills they can immediately apply to be a part of it.
Florence Mawusi Ofori from Ghana seeks to empower underprivileged youngsters by providing girls with eco-friendly washable menstrual pads and giving these children a comprehensive education on sexuality and reproductive rights.
Selassie Tay from Ghana runs 'Eyata' – a vocational and business management institute with a mission to provide training and support system for young unemployed women from less privileged socio-economical backgrounds to start and run their own formalised and sustainable micro enterprises. Thereby empowering them with agency and the ability to afford the basic essentials of life and more.
Stephen Ogweno from Kenya shares that his 'COZ I'M HAPPY' project is all about maximizing on young people's potential. The project focuses on creating spaces within 12 institutions of higher learning where young people can openly talk about their mental health and get counseling, advice and care from trained peers and institutional psychologists. "We are doing this actively through training of mental health advocates, formation or integration of mental health in clubs, and strengthening institutional policies on mental health."
Vuyo Henda's mission is to give girl students from marginalized communities free access to relatable women mentors through technology. This will accelerate building the soft skills and networks they need to secure a job and to have a strong start in their career and beyond. With this initiative she wants to make a dent in South Africa's high youth unemployment and build more diverse & gender-balanced workplaces.
Wise Nzikie Ngasa from Cameroon feels that violence against women in the Northern Regions of Cameroon is a huge issue; more than half of women have suffered physical abuse, (55%) as from the age of 15. Among women who have experienced marital violence, 43% have had injuries as a result of this violence. The ingrained nature of this violence means that there is a need to change related perceptions and attitudes from an early age. His project 'School Clubs Against Gender Based Violence (SCAG)' shall work with students to implement behavioural change actions integrated in school and community activities aimed at markedly reducing gender-based violence in the northern regions of Cameroon.
Dalai Lama Fellows (DLF) is an internationally-recognized one-year contemplative leadership program. It's designed to help young leaders cultivate self-awareness, compassion, and other social and emotional skills to support their own leadership development and well-being as they work to improve the well-being and flourishing of their communities. To apply their learning in action, fellows implement social change projects in their local communities throughout the fellowship year.