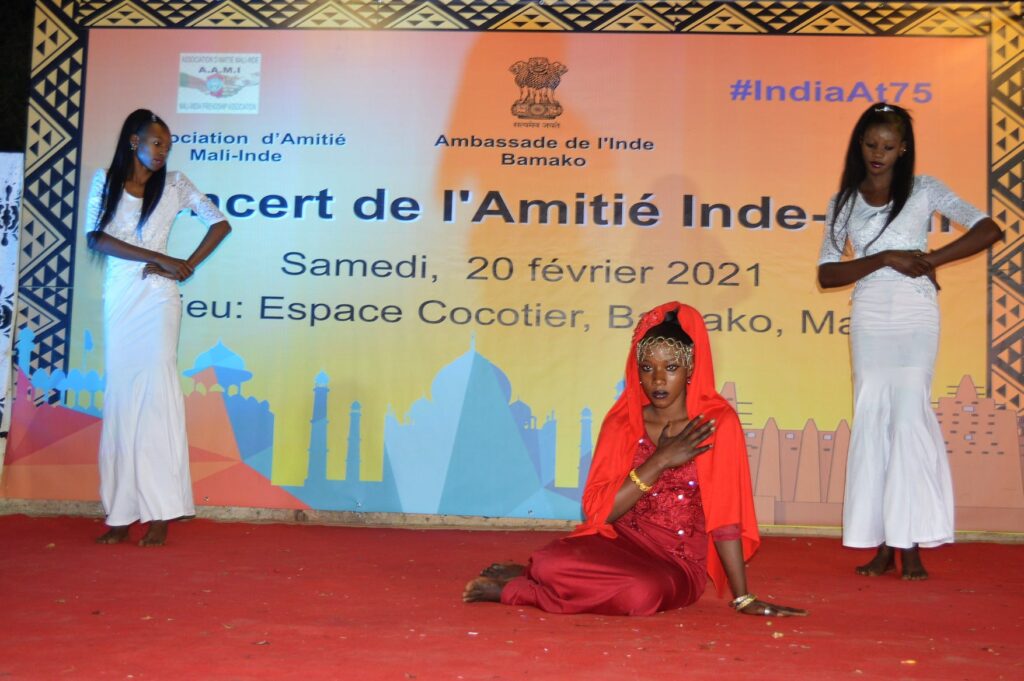 Creating a rich symphony of diverse cultures, the first ever India-Mali Friendship Concert (Concert de l'Amitié Inde-Mali) spellbound the audience. Held at Bamako on 20 February 2021 the colourful event was organized by the Embassy of India, Bamako in collaboration with the Association d'Amitié Mali-Inde (Mali-India Friendship Association). It was for first time that Malian Indophiles and artists from across Mali had gathered at Bamako on one stage. The Indian community in Bamako also participated and showcased their talent. The event underlined the deepening cultural connections and people-to-people relationship between India and Mali.
Several artists as well as dance groups from India and Mali showcased their talent. While Srishti Pandey of Indian community in Bamako danced to a welcome song, Mofas Khan enthralled everyone with his song 'Rote Rote Hansna Seekho'. Bamako's 'Yaarana Group' danced to 'Rangabati', Odisha's popular folk song, members of 'Indou Seydou Group' from Kita showed their performnace on the song 'Chalte Chalte Yun Hi Koi Mil Gaya Tha' and young artists of 'Dostana' Group from Mopti danced to the song 'Afghan Jalebi'.
Malian artists and Indophiles from across Mali converged enthusiastically for the India-Mali Friendship Concert in Bamako.